Working together with youth to create a sustainable future for all...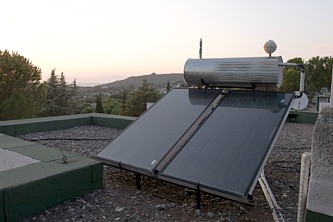 Photo (left): Resort Hotel by the Dead Sea, water pool directly heated by the sun. Photo (right): Solar water heaters used on rooftops of residential buildings on the Aegean coast.

Green Lion Association is an independent non-profit organization committed to creating a sustainable future for humanity as well as for this planet. What puts us apart from other organizations related to sustainability is our philosophy: we consider the human kind to be an integral but not dominant part of this planet. We believe that humans, plants, animals and all life forms have the right to survive on this planet. It is our duty to assure the safety and well being of all species.
So how can we assure a sustainable future for all ? We believe the most efficient "tool" to handle the challenges of sustainability are public awareness campaigns. We, at Green Lion, focus on a wide range of awareness projects & programs ranging from conferences to contests, from video productions to on-line courses.
Sustainability is a multi-faceted challenge requiring a wholistic global approach: on the one hand we need to create mutual understanding between different cultures, different genders and different life forms and on the other hand we need to assure that the technologies humanity has and will be creating contribute to the sustainability and not destruction of this planet.
We need to ask ourselves: what is the most efficient and effective approach to sustainability ? We believe that the most effective long-term initiative to create a sustainable future is to work together with leaders of the future: hence our committment to working together with youth. Given the urgency of the challenges of the environment, we can not afford to just focus on the future, we also need to focus on today and produce practical and immediate solutions to our challenges. Actually, creating a large impact while utilizing minimal resources is possible. In our courses and videos we focus on realistic, creative and practical solutions to sustainability.
The challenges are many but so are the tools to handle them effectively. Our awareness raising programs focus, among others, on practical themes like recycling, technical themes like electric vehicles and self-sufficient solar powered smart buildings, and social themes like urban development and environmental protection. The latter has proven to be a challenge, particularly in developing countries, where socio-political strategies and interest groups may interact in "unpredictable ways".
To reach a wider audience globally and to take concrete steps in creating a sustainable future, in 2014 we have been actively developing on-line courses and audio-visual material that we hope will create a greater awareness on the challenges of sustainability as well as guide all those interested through a creative process that will be crucial in producing solutions to the challenges at hand.
We would like to take this opportunity to thank, once again, all of our volunteers who have been actively supporting our mission and our projects throughout the years.
More information on why our 30+ years of experience in sustainability has a rather limited presence on our website can be found here (more coming soon)
---
Here some high-lights of some of our activities in the past:
Product Design and Sustainability.
A presentation by: Prof. Efecem Kütük, New Jersey Institute of Technology
Date/Time: 04 July 2014, 15:40
Location: Room FF 110, Department of Interior Architecture and Environmental Design, Bilkent University

Photos above: Prof. Kütük discussing with students and volunteers ways of promoting sustainability. &copy 2014 I.Yurdadogan
---

Climate Change and the Built Environment: Designing with nature as adaptation strategy against impacts of heat waves.
A presentation by: Dr. John Odhiambo Onyango, University of Miami
Date/Time: 22 May 2014, 13:40
Location: Room FF 05, Department of Interior Architecture and Environmental Design, Bilkent University
Abstract: Great strides have been made in the area of reduction in CO2 emissions and energy use in buildings over the last couple of decades. The results have been mixed, with some indicating improvements in energy consumption of green buildings over conventional ones, suggesting that greening has a positive impact on both resource use and human well-being. However, there have been other studies that have revealed contradictory results indicating that not all green buildings perform as well as would have been expected and in some cases worse than conventional buildings. It raises questions relating to the causal reasons for the disparities that exist even between the similar building types and sizes themselves: What is the effect of the improvement in envelope construction versus operational management, user behavior, user satisfaction and indoor environmental quality (IEQ)? Are current models used in measuring the performances and user satisfaction of the impact of greening buildings robust? Scholars are beginning to question the approach taken currently to measure the performances of buildings due to greening, citing lack of aggregated data; small samples used and suggesting a new one that requires thinking outside the box is needed. The healthcare system is an area where energy use in buildings can borrow a leaf, as there are examples of how outbreaks of health problems have been studied and contained. One approach is to expand the concept of continual health monitoring and analysis of energy demand and use in buildings to enable the understanding of the causal links to well-being if any of the 3D characteristics of the buildings, the impact of the local contexts (urban or rural), user behavior, energy profiles and IEQ metrics of the buildings. The talk will present some preliminary experimental and analysis of sample data collected from various residential buildings in Miami, FL and Ankara, Turkey.
Keywords: Living Walls, Energy Use Intensity, Volumetric Energy Use Intensity, simulation, dynamic facades

Photos (above): Dr. Onyango giving his speech at Bilkent University. &copy 2014 M.H.Yurdadogan
---

Photo (left): Installation art contest winners (Group 11) and their art work. Photo (right): UNV Officer
Ms. Ulla Helena Gronlund discussing volunteerism with art contest participants.
Art Competition, May 2012

Green Lion Association and United Nations Volunteers (UNV) are partnering in organizing an art competition in Ankara to promote volunteerism and environmental awareness among university students. 100 students will be participating with their installation art works in this first of its kind art competition. The art works will be submitted by May 2012 and will be on diplay at the virtual (on-line) Green Lion Art Gallery.

Project time table:
Application for competition: March 12, 2012
Submission of initial ideas and concept board: April 25, 2012
Submission of final art work: May 2, 2012
Jury: May 3, 2012
---
.
.
.
All photos &copy 2011 Green Lion Society
Sustainability and Energy Resources Seminar

The Sustainability and Energy Resources Seminar organized jointly by the Bilkent University Science and Art Society and the Green Lion Society took place at Bilkent University in Ankara between the dates April 25-28, 2011. The seminar gave students a chance to discuss a diverse range of sustainability issues with academics and specialists in the field.

April 25, 2011
After a brief introduction by Science and Art Society President Mr. Fuat Basık (photo 5), UNDP Programme Manager Dr. Katalin Zaim made the opening remarks (photo 1). Following Dr. Zaim's remarks, Green Lion Society Director Mr. Hakan Yurdadogan gave a presentation on sustainable architecture (photo 4).

April 26, 2011
Dr. M. Bilge Demirköz, professor at Middle East Technical University, Physics Department (formerly Particle Physics Expert at CERN, Switzerland), gave a presentation on sustainability and energy resources and discussed the limitations and benefits of nuclear energy (photo 3).

April 27, 2011
Students came together at the Interior Architecture Department to screen the film: Garbage Warrior by Oliver Hodge. The works of architect Michael Reynolds gave the students a chance to discuss the benefits and limitations of using recycled materials in building sustainable buildings (photo 6).

April 28, 2011
Mr. Hasan Özkoç from the EU Delegation to Turkey gave a presentation on the energy policies of the EU and discussed EU's approach to nuclear energy after the Fukushima incident. (photo 2).